Sleeves 2.0
The new stainless steel sleeves made of 316Ti are even more resistant thanks to an additional titanium alloy in the material and additionally protect the hexagon made of stainless steel from environmental influences.
exitkey 2.0
The newly developed embossing device enables the punch numbers to be embossed much more easily and efficiently. It is characterized by a more user-friendly handling, which means that the words can now be accessed even faster and more precisely
Hexagonal can be placed. An innovative guiding and clamping concept ensures precise positioning without slipping. Due to the perpendicular guidance of the beat numbers, each character is clearly and clearly displayed on the hexagon, so that optimal readability is achieved. With this further development of the embossing device, embossing punch numbers becomes a professional and efficient process.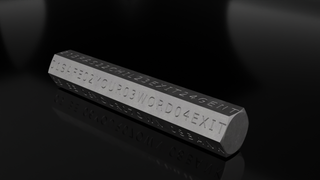 6-edge
The hexagonal rod made of V2A stainless steel is characterized by its excellent corrosion resistance. In addition, due to its solid construction, it offers high mechanical strength.

Its exceptional temperature resistance is also noteworthy. At a melting temperature of 1400-1450 degrees Celsius, the hexagonal rod was exposed to a simulated house fire at 1150 degrees Celsius for 3 hours without any loss of quality. The readability of the memorized words was not affected.


seal
Another advantage of this protective sleeve is that
After closing, a security seal with a serial number is attached to the set
enclosed can be attached and cannot be removed non-destructively
can. This provides additional protection against unauthorized access
guaranteed.
"The exitkey is easy to use and I feel safe that my words are protected."
Kevin
"It's a good feeling to know your 24 words."
David
"I've been looking for the right storage option for a long time and I'm thrilled with how easy it is with the exitkey."
Madeline